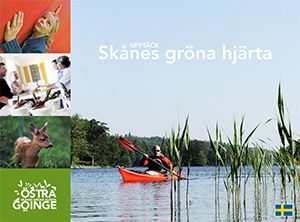 Turistbroschyr Upptäck Östra Göinge
I nordöstra Skåne finns en annorlunda plats. Här möter du människor som tar sig tid. Som älskar det naturliga i livet. Här får du ro att sitta i en roddbåt och titta på ett guppande flöte, vandra längs en tyst grusväg i morgondiset och lyssna på fågelsången i de djupa snapphaneskogarna. Eller låta dig förundras över världsberömd konst i Wanås skulpturpark.
Välkommen!
Broschyr Upptäck Skånes gröna hjärta
Brochure Discover The green heart of Skåne
Platsmagasin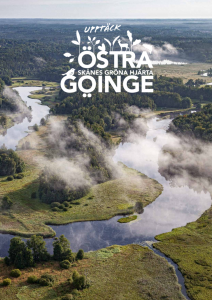 Ett nytt platsmagasin har tagits fram för Östra Göinge och riktar sig till alla som är nyfikna på, vill besöka och uppleva Skånes gröna hjärta. I magasinet presenteras bland annat Östra Göinges fantastiska natur och möjlighet till friluftsliv, dess stora kulturutbud, starka företagsanda och rika föreningsliv.
Magasinet anpassar sig efter olika format som mobiltelefon, surfplatta och datorns webbläsare och gör det enkelt för läsaren att bläddra mellan såväl bilder som sidor.
Bläddra i den digitala versionen av magasinet eller hämta ett tryckt exemplar i kommunhusets kundtjänst.
Kartor (turism)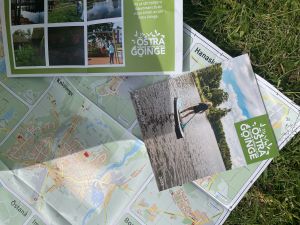 Välkommen att hämta en fysisk karta på kommunhuset i Broby eller på något av kommunens bibliotek. Nedan finns digitala kartor över Östra Göinge och Skåne samt en upplevelsekarta för nordöstra Skåne.
Karta över Östra Göinge kommun
Skånekartan
Upplevelsekarta, nordöstra Skåne
Friluftskarta för Östra Göinge kommun
Cykelledskartor för mobiltelefon, Lunds Naturskyddsförening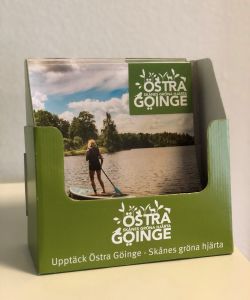 Är ni ett lokalt företag eller annan verksamhet med många besökare? I så fall är ni välkomna in till kommunens kundtjänst i Broby för att hämta kartor till era besökare. Ett kartställ medföljer!
Kontakt
När du vill ha tips och inspiration om Östra Göinge, besök våra infopunkter:
Kommunhuset, Storgatan 4
Hämta kartor och inspirationsbroschyr i kundtjänst.
Telefon kundtjänst: 044-775 60 00
Se våra öppettider
Hitta till oss
Broby Kulturhuset Vita skolan, Skolgatan 1
Hitta till Kulturhuset Vita skolan
Öppettider Kulturhuset Vita skolan
Wanås Konst
Hitta till Wanås Konst
Öppettider Wanås Konst